April 15, 2021
Exploring Graphs with Elixir: Connect Data with Native Graph Libraries and Graph Databases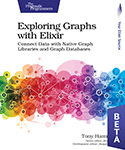 Graphs provide an intuitive and highly flexible means for organizing and querying huge amounts of loosely coupled data items. These data networks, or graphs in math speak, are typically stored and queried using graph databases. Elixir, with its noted support for fault tolerance and concurrency, stands out as a language eminently suited to processing sparsely connected and distributed datasets.
Using Elixir and graph-aware packages in the Elixir ecosystem, you'll easily be able to fit your data to graphs and networks, and gain new information insights. Build a testbed app for comparing native graph data with external graph databases. Develop a set of applications under a single umbrella app to drill down into graph structures. Build graph models in Elixir, and query graph databases of various stripes—using Cypher and Gremlin with property graphs and SPARQL with RDF graphs. Transform data from one graph modeling regime to another. Understand why property graphs are especially good at graph traversal problems, while RDF graphs shine at integrating different semantic models and can scale up to web proportions.
Harness the outstanding power of concurrent processing in Elixir to work with distributed graph datasets and manage data at scale.
Now available in beta from pragprog.com/titles/thgraphs.
You Could Be a Published Author
Is there a tech topic you are deeply passionate about and want to share with the rest of us? You could become a published Pragmatic Bookshelf author! Take a look at our pragprog.com/become-an-author page for details, including our 50% royalty (yes, for real!) and world-class development editors.
Remember, the best way to tell the future is to create it.
Upcoming Author Appearances
Don't Get Left Out
Are your friends jealous that you get these spiffy email newsletters and they don't? Clue them in that all they need to do is signup at pragprog.com.
Tell your friends! Tweet this
Follow us on Twitter for the latest news, commentary, and occasional discounts: @pragprog, Andy Hunt @PragmaticAndy.
Thanks for your continued support.

By Professional Developers, for Professional Developers
PragProg.com
Sent by the Pragmatic Programmers, LLC. • 9650 Strickland Rd Ste 103-255• Raleigh NC 27615