For those of you having trouble reading this email, this newsletter is available online at:
media.pragprog.com/newsletters/2009-03-25.html

Greetings!

You asked for it, you've got it. By popular request (ok, actually large crowds armed with torches and pitch forks), you can now download your favorite Pragmatic ebooks in any of these formats:
epub for iPhone, iPod Touch, Sony Reader and others
mobi for the Kindle 1.0 and 2.0

PDF

for laptop and desktop
All formats are DRM-free so you can actually read the content the way you want to. See below for an overview, and visit our FAQ for the technical details.
Tell your friends! Tweet this
Life these days is life on the go. While it's great to have a Pragmatic book open next to your computer, or on the bedside table, you need access everywhere else as well. Anywhere you've got your iPod, Kindle, Sony Reader, or other ebook reader. We've got you covered.
What You Get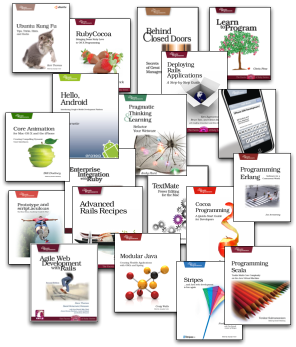 When you order an ebook from our website, pragprog.com, you get the ebook in all supported formats. Currently that includes epub, mobi, and PDF for most titles (we'll still working on converting the rest).
However, please note that due to various technical limitations, some titles will not be available in all formats. Programming Ruby, Pragmatic Unit Testing in Java and C#, and Pragmatic Version Control using CVS are not available in epub or mobi. The Pragmatic Programmer is only available in paperback.
What You've Already Got
If you've ordered a PDF from us in the past, you can download that same title in any of the supported formats. You've bought a license to the content, not to a particular file format, so you are free to enjoy that content on whatever device, using whatever display technology you choose.
Visit your account on pragprog.com and download the formats you want, any time you want.
Now of course you should back up your important files (hint, hint), but when your hard disk crashes and you're caught without a backup, you can simply download your purchased books from your account again.
Why it's Better
All our ebook formats are DRM-free and all include your name—each ebook is prepared specially just for you, unencumbered by any restrictive technology that might get in the way.
We trust that you want to support our authors and encourage them to keep writing. Please don't violate that trust by allowing other people access to your book. We're counting on you.
I Bought Paperback and Want the ebook now
If you've bought a paper book (either from us or from a retail store), now would be a great time to update your paperback to an ebook combo pack.
When you buy from pragprog.com, you can get the paperback and ebook at a combination discount. But if you've already bought the paperback, you can still buy the ebook—in all available formats—at a discount. Look in the back of your printed book for details on how to buy that book's PDF, which now gives you access to all ebook formats.
Thanks for your continued support,
Dave & Andy
www.PragProg.com