March 09, 2011
Greetings!
The newest iPads are making headlines—how's your app coming along? Are you ready to dominate the app store and wow your users? We've got a shortcut that can help.
iOS Recipes: Tips and Tricks for Awesome iPhone and iPad Apps will help you take your iPhone and iPad apps to the next level. With these recipes in your arsenal, your next apps will be more polished and more maintainable than ever.
Now in beta from pragprog.com/titles/cdirec.
Tell your friends! Tweet this
iOS Recipes: Tips and Tricks for Awesome iPhone and iPad Apps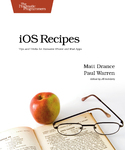 You've seen cool features and tricks in other apps, but haven't had the time to really look into how they're done. We've got the answers for you.
iOS Recipes begins with a tour of UIKit. Noted iOS developer and trainer Matt Drance and expert graphical-systems programmer Paul Warren show you how to write splash screens and embedded web browsers that are easily dropped into any project. You'll explore techniques for building complex table views without losing yourself in a sea of code, and see how to add some unique visual touches to any table—even the ones you've already built.
Next you'll explore Quartz and Core Animation, and you'll walk through a number of fills, transforms, and animations that will breathe life into any app or game. You'll also learn about gestures, transitions, and custom controls to take your user interactions to the next level.
You'll tackle networking with a few basic techniques to prevent unnecessary repetition in your codebases, and address some more complex problems like uploading large files to a web server. Finally, you'll see some simple disciplines and ideas that will make architecting, debugging, maintaining, and ultimately shipping your application easier every single time.
By the end of this book, you'll have expanded your iPhone and iPad development knowledge and be well on your way to building elegant solutions that are ready for whatever project you take on next.
Now available in beta from pragprog.com/titles/cdirec.
Andy & Dave
Books • eBooks • Screencasts • PragPub Magazine
PragProg.com
Manage your subscription using your account, or permanently unsubscribe here.
Sent by the Pragmatic Programmers, LLC. • P.O. Box 293325 • Lewisville, TX 75029