August 08, 2011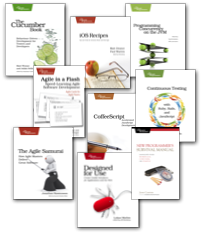 The Agile 2011 conference is this week in Salt Lake City, celebrating ten years since creation of the Agile Manifesto by seventeen interested software developers, including your very own Dave Thomas and Andy Hunt.
To celebrate the arbitrary significance of this decadal event, we've proclaimed it Agile Week here at the Pragmatic Bookshelf. Hey, if they can have a Shark Week, we can have Agile Week. So this week, and this week only, you can save 40% on your purchases from pragprog.com, but you have to use the coupon code AGILEWEEK before August 12, 2011.
The fine print:
This offer is not retroactive and only applies to titles we publish purchased from August 8 to August 12 directly from our online store at pragprog.com. No additional coupons or discounts apply. Void where prohibited, do not use paper books in water. Come to think of it, you probably shouldn't use eBooks in water, either. For external use only. Warning: our books may produce a dizzying sense of euphoria as you gain greater skills and abilities. Do not read books while operating heavy machinery or unlicensed nuclear accelerators.
Come and get it!
Don't Get Left Out
Are your friends jealous that you get these spiffy email newsletters and they don't? Clue them in that all they need to do is create an account on pragprog.com (email address and password is all it takes) and select the checkbox to receive newsletters.
Are you following us on Twitter and/or Facebook? Here's where you can find us and keep up with the latest news and commentary:
Dave & Andy
Books • eBooks • Screencasts • PragPub Magazine
PragProg.com
Manage your subscription using your account, or permanently unsubscribe here.
Sent by the Pragmatic Programmers, LLC. • P.O. Box 293325 • Lewisville, TX 75029