September 08, 2021
Programming WebRTC: Build Real-Time Streaming Applications for the Web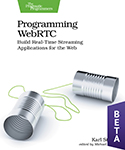 WebRTC is an API exposed in all modern web browsers. After almost a decade of development, the WebRTC specification was finalized, and this book provides faithful coverage of that finalized specification. You'll start by building a basic but complete WebRTC application for video chatting. Chapter by chapter, you'll refine that app and its core logic to spin up new and exciting WebRTC-powered apps that will have your users sharing all manner of data with one another, all in real time. No third-party libraries or heavy downloads are required for you or your users: you'll be writing and strengthening your knowledge of vanilla JavaScript and native browser APIs.
You'll learn how to directly connect multiple browsers over the open internet using a signaling channel. You will gain familiarity with a whole set of Web APIs whose features bring WebRTC to life: requesting access to users' cameras and microphones; accessing and manipulating arbitrary user files, right in the browser; and web storage for persisting shared data over the life of a WebRTC call. Like any Web API, WebRTC doesn't enjoy a perfect implementation in any browser. But this book will guide you in writing elegant code to the specification, with backward-compatible fallback code for use in almost all modern browsers.
Use WebRTC to build the next generation of web applications that stream media and data in real time, directly from one user to another—all by working in the browser.
Now available in beta from pragprog.com/titles/ksrtc.
You Could Be a Published Author
Is there a tech topic you are deeply passionate about and want to share with the rest of us? You could become a published Pragmatic Bookshelf author! Take a look at our pragprog.com/become-an-author page for details, including our 50% royalty (yes, for real!) and world-class development editors.
Remember, the best way to tell the future is to create it.
Upcoming Author Appearances
Don't Get Left Out
Are your friends jealous that you get these spiffy email newsletters and they don't? Clue them in that all they need to do is sign up at pragprog.com.
Tell your friends! Tweet this
Follow us on Twitter for the latest news, commentary, and occasional discounts: @pragprog, Andy Hunt @PragmaticAndy.
Thanks for your continued support,

By Professional Developers, for Professional Developers
PragProg.com
Sent by the Pragmatic Programmers, LLC. • 9650 Strickland Rd Ste 103-255• Raleigh NC 27615