September 23, 2021
Go Brain Teasers: Exercise Your Mind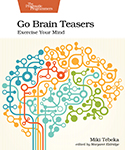 Programmers love the Go (Golang) programming language because of its efficiency and simple tooling. But that doesn't mean programming in Go is without challenges, like hidden dependencies that trip up the compiler and interesting string type conversions that differ from languages like Python. Work your way through 25 short brain teasers, and learn the nuances of Go in one of the most fun and creative ways around.
Challenge yourself and challenge your assumptions to gain a more in-depth understanding of integers, strings, Unicode, compiler behavior, and a variety of subtle programming gotchas that might otherwise trip you up. Just read a short program written in Go, try to guess the output, run the code yourself, and then go to the next page for an explanation of the solution. By working through these brain teasers, you'll tighten up your Go programming skills and have lots of fun at the same time.
Taken from real-world programming problems, conference talks, and meetup quizzes, these brain teasers provide an effective learning tool that's as enjoyable as it is educational.
Now in print: Use Coupon Code "GOBRAINCOMPLETE" for 40% off the ebook at pragprog.com/titles/d-gobrain. For the paperback edition, please support your local independent bookstore.
You Could Be a Published Author
Is there a tech topic you are deeply passionate about and want to share with the rest of us? You could become a published Pragmatic Bookshelf author! Take a look at our pragprog.com/become-an-author page for details, including our 50% royalty (yes, for real!) and world-class development editors.
Remember, the best way to tell the future is to create it.
Upcoming Author Appearances
Don't Get Left Out
Are your friends jealous that you get these spiffy email newsletters and they don't? Clue them in that all they need to do is sign up at pragprog.com.
Tell your friends! Tweet this
Follow us on Twitter for the latest news, commentary, and occasional discounts: @pragprog, Andy Hunt @PragmaticAndy.
Thanks for your continued support,

By Professional Developers, for Professional Developers
PragProg.com
Sent by the Pragmatic Programmers, LLC. • 9650 Strickland Rd Ste 103-255• Raleigh NC 27615