October 20, 2021
Effective Remote Work: For Yourself, Your Team, and Your Company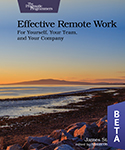 Remote working is on the rise. Whether or not we are remote workers, it is likely we are all part of a global workforce. We need to learn to interact remotely, because we are all remote from someone in some way. Rather than simply simulating the way we'd usually work together via digital means, we have to learn new communication skills and adopt a different mindset in order to work remotely effectively, efficiently, and, most importantly, healthily.
We'll start by getting you set up with the right equipment and habits. Then, we'll learn the mindset of treating everyone as remote, and conquer both synchronous and asynchronous communication. You'll learn how to produce amazing artifacts, how to communicate clearly, and how to manage yourself and your teams. Then we'll look at the bigger picture: from measuring the remote readiness of your workplace, to creating a handbook for your team, to exploring remote-first culture and tackling burnout and mental well-being.
Fundamentally we'll see that adopting a remote-working mindset can do wonders for our organization, our effectiveness, and our impact in our careers. It can even create a more diverse and inclusive industry for us all to work in.
So what are you waiting for? The remote future is now. Be a part of it.
Now available in beta from pragprog.com/titles.
Who Are We?
The Pragmatic Bookshelf publishing imprint is wholly owned by The Pragmatic Programmers, LLC.
Andy Hunt and Dave Thomas founded the company with a simple goal: to improve the lives of professional developers. We create timely, practical books, audio books, and videos on classic and cutting-edge topics to help you learn and practice your craft.
We are not a giant, faceless, greed-soaked corporation. We're a small group of experienced professionals committed to helping make software development easier.
Thank you for your continued support!
Upcoming Author Appearances
Don't Get Left Out
Are your friends jealous that you get these spiffy email newsletters and they don't? Clue them in that all they need to do is sign up at pragprog.com.
Tell your friends! Tweet this
Follow us on Twitter for the latest news, commentary, and occasional discounts: @pragprog, Andy Hunt @PragmaticAndy.
Thanks for your continued support,

By Professional Developers, for Professional Developers
PragProg.com
Sent by the Pragmatic Programmers, LLC. • 9650 Strickland Rd Ste 103-255• Raleigh NC 27615