May 12, 2022

Enter coupon code SERVING2022 at checkout to save 50% on any of the following titles:

Offer not valid for previous purchases. Expires May 20, 2022.

Web Development with Clojure, Third Edition Create a series of web apps of growing complexity, exploring the full process of web development using a modern functional language.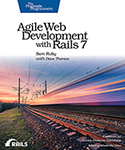 Agile Web Development with Rails 7 Take hold of a toolkit that's so powerful even a single individual can create a modern application fit for building a competitive business.

Programming Phoenix 1.4 Build the next generation of web applications as you journey from Phoenix novice to expert.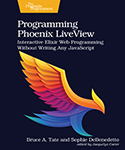 Programming Phoenix LiveView This definitive guide to LiveView isn't just a reference manual—it'll teach you how to think in both Elixir and LiveView.

Programming WebAssembly with Rust Discover the easy way to build cross-platform applications without sacrificing power. Change the way you write code for the web.

Build Websites with Hugo Build your next website using Hugo, the fast static site generator that makes web development fun again.

Practical Microservices Practical Microservices dispels the confusion around microservices, showing readers how to build projects for long-term developer productivity.


Design and Build Great Web APIs Design, build, test, seure, and deploy NodeJS web APIs with this fast-paced and comprehensive book.

Do More with What You Know
From paperbacks and ebooks to online courses and beyond, if you want to create technical content, we may be your perfect partner.
Leverage our 20+ years of experience, our global distribution network, our massive fan base, our relationships with industry leaders, our editorial, production, and marketing prowess, and even our reputation for excellence. Sure, you could go it alone, but with some of the highest royalties in all of traditional publishing and your own personal team, why would you bother?
Shoot us an email at proposals@pragprog.com or visit pragprog.com/publish-with-us for more details today.
Let's publish something together!
Upcoming Author Appearances
2022-05-15 Staffan Nöteberg, Shinescrum Shanghai/Beijing (Online)
2022-05-18 Andy Atkinson, RailsConf Portland, OR 2022
2022-06-14 Johanna Rothman, Sooner Safer Happier Meetup
Be the First
Sign up for this newsletter at https://pragprog.com/newsletter/ and be the first to hear about our newest content, best promotions, and upcoming events.
Want even more? Follow @pragprog on Twitter and The Pragmatic Programmers on LinkedIn for commentary, news, job openings, and even puzzles.
And while you're here, remember to look up Andy Hunt @PragmaticAndy and Dave Thomas @pragdave, too.
Thanks for your continued support,

By Professional Developers, for Professional Developers
PragProg.com
Sent by the Pragmatic Programmers, LLC. • 9650 Strickland Rd Ste 103-255• Raleigh NC 27615