May 17, 2022
Modern CSS with Tailwind, Second Edition: Flexible Styling Without the Fuss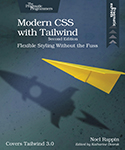 With CSS, you can do amazing things to the basic text and images on your website, and with just a little bit of client-side code to add and remove CSS classes, you can do exponentially more.
In the latest edition of this book, you'll learn how to use Tailwind 3.0 and the new way it generates CSS. You'll code your way through Tailwind's newest features, including the ability to use arbitrary values with most Tailwind class patterns and a new syntax for combining color and opacity in a single class. You'll even dive into the new standalone command-line tools for Tailwind.
The Tailwind setup is extremely explicit and makes it possible to understand the display just by looking at the HTML markup. Start by designing the typographic details of the individual elements, then placing and manipulating those elements in "the box" using a flexbox or grid design. Finally, move those elements around the page with helpful small animations and transitions.
With Tailwind, it's easy to prototype, iterate, and customize your display, use prefixes to specify behavior, change defaults, add new behavior, and integrate with legacy CSS.
Use Tailwind to make extraordinary web designs without extraordinary effort.
Now in print: Use coupon code "TAILWIND2COMPLETE" for 40% off the ebook at pragprog.com/titles/tailwind2. For the paperback edition, please support your local independent bookstore.
Do More with What You Know
From paperbacks and ebooks to online courses and beyond, if you want to create technical content, we may be your perfect partner.
Leverage our 20+ years of experience, our global distribution network, our massive fan base, our relationships with industry leaders, our editorial, production, and marketing prowess, and even our reputation for excellence. Sure, you could go it alone, but with some of the highest royalties in all of traditional publishing and your own personal team, why would you bother?
Shoot us an email at proposals@pragprog.com or visit pragprog.com/publish-with-us for more details today.
Let's publish something together!
Upcoming Author Appearances
2022-05-18 Andy Atkinson, RailsConf Portland, OR 2022
2022-06-14 Johanna Rothman, Sooner Safer Happier Meetup
Be the First
Sign up for this newsletter at https://pragprog.com/newsletter/ and be the first to hear about our newest content, best promotions, and upcoming events.
Want even more? Follow @pragprog on Twitter and The Pragmatic Programmers on LinkedIn for commentary, news, job openings, and even puzzles.
And while you're here, remember to look up Andy Hunt @PragmaticAndy and Dave Thomas @pragdave, too.
Thanks for your continued support,

By Professional Developers, for Professional Developers
PragProg.com
Sent by the Pragmatic Programmers, LLC. • 9650 Strickland Rd Ste 103-255• Raleigh NC 27615