August 04, 2022
Build a Binary Clock with Elixir and Nerves: Use Layering to Produce Better Embedded Systems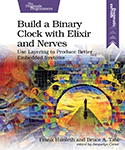 Combining software with hardware can be frustrating, but you can become proficient in no time by taking a simple, logical approach. Blinking a single LED is the traditional "Hello-World" of embedded systems. Building your own binary clock is the logical next step. It blinks groupings of LEDs based on the system time. This guide walks you through a working project using the techniques used by experts who build software for hardware every day.
This commonsense project moves forward in tiny, logical steps. As you progress, you can verify each step before moving on to the next. You don't have to be a Nerves novice to benefit from this project. Become a better Elixir programmer as you build your own desktop showpiece. With a layered approach to software design, you'll learn to control the complexity of your programs the way the experts do by focusing on one small slice of your system at a time.
When you're done, you'll have your own binary clock and more of the tools you need to design and build your own Nerves and Elixir projects. You'll also be a better programmer with a deeper appreciation of layering techniques for controlling complexity.
Now in print: Use coupon code "THNERVESCOMPLETE" for 40% off the ebook at pragprog.com/titles/thnerves. For the paperback edition, please support your local independent bookstore.
Do More with What You Know
From paperbacks and ebooks to online courses and beyond, if you want to create technical content, we may be your perfect partner.
Leverage our 20+ years of experience, our global distribution network, our massive fan base, our relationships with industry leaders, our editorial, production, and marketing prowess, and even our reputation for excellence. Sure, you could go it alone, but with some of the highest royalties in all of traditional publishing and your own personal team, why would you bother?
Shoot us an email at proposals@pragprog.com or visit pragprog.com/publish-with-us for more details today.
Let's publish something together!
Upcoming Author Appearances
2022-08-04 Ben Cotton, Nest With Fedora (virtual)
2022-09-10 Brian Okken, PyBay, San Francisco
Be the First
Sign up for this newsletter at https://pragprog.com/newsletter/ and be the first to hear about our newest content, best promotions, and upcoming events.
Want even more? Follow @pragprog on Twitter and The Pragmatic Programmers on LinkedIn for commentary, news, job openings, and even puzzles.
And while you're here, remember to look up Andy Hunt @PragmaticAndy and Dave Thomas @pragdave, too.
Thanks for your continued support,

By Professional Developers, for Professional Developers
PragProg.com
Sent by the Pragmatic Programmers, LLC. • 9650 Strickland Rd Ste 103-255• Raleigh NC 27615