November 09, 2022
Exploring Graphs with Elixir: Connect Data with Native Graph Libraries and Graph Databases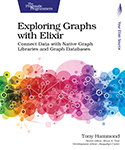 Graphs provide an intuitive and highly flexible means for organizing and querying huge amounts of loosely coupled data items. These data networks, or graphs in math speak, are typically stored and queried using graph databases. Elixir, with its noted support for fault tolerance and concurrency, stands out as a language eminently suited to processing sparsely connected and distributed datasets.
Using Elixir and graph-aware packages in the Elixir ecosystem, you'll easily be able to fit your data to graphs and networks, and gain new information insights. Build a testbed app for comparing native graph data with external graph databases. Develop a set of applications under a single umbrella app to drill down into graph structures. Build graph models in Elixir, and query graph databases of various stripes—using Cypher and Gremlin with property graphs and SPARQL with RDF graphs. Transform data from one graph modeling regime to another. Understand why property graphs are especially good at graph traversal problems, while RDF graphs shine at integrating different semantic models and can scale up to web proportions.
Harness the outstanding power of concurrent processing in Elixir to work with distributed graph datasets and manage data at scale.
Now in print: Use coupon code "THGRAPHSCOMPLETE" for 40% off the ebook at pragprog.com/titles/thgraphs. For the paperback edition, please support your local independent bookstore.
Do More with What You Know
From paperbacks and ebooks to online courses and beyond, if you want to create technical content, we may be your perfect partner.
Leverage our 20+ years of experience, our global distribution network, our massive fan base, our relationships with industry leaders, our editorial, production, and marketing prowess, and even our reputation for excellence. Sure, you could go it alone, but with some of the highest royalties in all of traditional publishing and your own personal team, why would you bother?
Shoot us an email at proposals@pragprog.com or visit pragprog.com/publish-with-us for more details today.
Let's publish something together!
Upcoming Author Appearances
Be the First
Sign up for this newsletter at https://pragprog.com/newsletter/ and be the first to hear about our newest content, best promotions, and upcoming events.
Want even more? Follow @pragprog on Twitter and The Pragmatic Programmers on LinkedIn for commentary, news, job openings, and even puzzles.
And while you're here, remember to look up Andy Hunt @PragmaticAndy and Dave Thomas @pragdave, too.
Thanks for your continued support,

By Professional Developers, for Professional Developers
PragProg.com
Sent by the Pragmatic Programmers, LLC. • 9650 Strickland Rd Ste 103-255• Raleigh NC 27615