January 05, 2023
Numerical Brain Teasers: Exercise Your Mind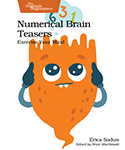 Engage your analytical side with these numerical brain teasers. Math and logic puzzles help you stretch your mind to think in new ways. They flex your lateral thinking as you work through fresh problem styles. Each puzzle type comes with an explanation, a method for solving them, and solutions if you get stuck.
The puzzles in this book are short, self-contained, and "gritty." They offer an enjoyable challenge and are designed to be solvable within a few minutes. You only need basic arithmetic to solve these puzzles; no advanced math required. There's plenty of variety to keep things fresh. From wandering digits to magic triangles, from summing grids to water pails, you'll find something that catches your interest. Each puzzle is brief, so use them as a warm-up to your daily work, for a delightful diversion on your coffee break, or solve a few while you wind down for the day.
Grab a pencil and your thinking cap, and get solving!
Now in print: Use coupon code "ESBRAINCOMPLETE" for 40% off the ebook at pragprog.com/titles/esbrain. For the paperback edition, please support your local independent bookstore.
Do More with What You Know
From paperbacks and ebooks to online courses and beyond, if you want to create technical content, we may be your perfect partner.
Leverage our 20+ years of experience, our global distribution network, our massive fan base, our relationships with industry leaders, our editorial, production, and marketing prowess, and even our reputation for excellence. Sure, you could go it alone, but with some of the highest royalties in all of traditional publishing and your own personal team, why would you bother?
Shoot us an email at proposals@pragprog.com or visit pragprog.com/publish-with-us for more details today.
Let's publish something together!
Upcoming Author Appearances
2023-01-10 Craig Walls, CodeMash, Sandusky, Ohio
Be the First
Sign up for this newsletter at https://pragprog.com/newsletter/ and be the first to hear about our newest content, best promotions, and upcoming events.
Want even more? Follow @pragprog on Twitter and The Pragmatic Programmers on LinkedIn for commentary, news, job openings, and even puzzles.
And while you're here, remember to look up Andy Hunt @PragmaticAndy and Dave Thomas @pragdave, too.
Thanks for your continued support,

By Professional Developers, for Professional Developers
PragProg.com
Sent by the Pragmatic Programmers, LLC. • 9650 Strickland Rd Ste 103-255• Raleigh NC 27615