February 01, 2023
Forge Your Future with Open Source: Build Your Skills. Build Your Network. Build the Future of Technology.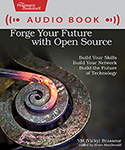 Free and open source software is the default choice for the programming languages and technologies which run our world today, and it's all built and maintained by people just like you. No matter your skill level or area of expertise, with this book you will contribute to free and open source software projects. Using this practical approach you'll understand not only the mechanics of contributing, but also how doing so helps your career as well as the community.
This book doesn't assume that you're a programmer, or even that you have prior experience with free and open source software. Learn what open source is, where it came from, and why it's important. Start on the right foot by mastering the structure and tools you need before you contribute. Choose the right project for you, amplifying the impact of your contribution. Submit your first contribution, whether it's code, writing, design, or community organizing. Find out what to do when things don't go the way you expect. Discover how to start your own project and make it friendly and welcoming to contributors.
Anyone can contribute! Make your mark today and help others while also helping yourself.
Now available at pragprog.com/titles. You can also use coupon code VBOPENSBUNDLE for 40% off when you purchase both the ebook and audio book at pragprog.com. For the paperback edition, please support your local independent bookstore.
Do More with What You Know
From paperbacks and ebooks to online courses and beyond, if you want to create technical content, we may be your perfect partner.
Leverage our 20+ years of experience, our global distribution network, our massive fan base, our relationships with industry leaders, our editorial, production, and marketing prowess, and even our reputation for excellence. Sure, you could go it alone, but with some of the highest royalties in all of traditional publishing and your own personal team, why would you bother?
Shoot us an email at proposals@pragprog.com or visit pragprog.com/publish-with-us for more details today.
Let's publish something together!
Upcoming Author Appearances
2023-03-02 Johanna Rothman, Scrum Professionals
2023-03-02 Andrew Hunt, Choices & Consequences Workshop
2023-03-03 Jeffrey Matthias, CodeBEAM Lite MX, Mexico City, Mexico
Be the First
Sign up for this newsletter at https://pragprog.com/newsletter/ and be the first to hear about our newest content, best promotions, and upcoming events.
Want even more? Follow @pragprog on Twitter and The Pragmatic Programmers on LinkedIn for commentary, news, job openings, and even puzzles.
And while you're here, remember to look up Andy Hunt @PragmaticAndy and Dave Thomas @pragdave, too.
Thanks for your continued support,

By Professional Developers, for Professional Developers
PragProg.com
Sent by the Pragmatic Programmers, LLC. • 9650 Strickland Rd Ste 103-255• Raleigh NC 27615