May 25, 2023
Practical A/B Testing: Creating Experimentation-Driven Products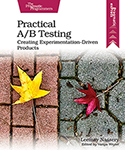 With smart, tactful approaches to orchestrating A/B testing on a product, you'll quickly discover how to reap all the benefits that A/B testing has to offer—benefits that span your users, your product, and your team. Take the reins today, and be the change you want to see in your engineering and product organizations.
Develop a hypothesis statement that's backed with metrics that demonstrate if your prediction for the experiment is correct. Build more inclusive products by leveraging audience segmentation strategies and ad-hoc post analysis to better understand the impact of changes on specific user groups. Determine which path is best for your team when deciding whether to go with a third-party A/B test framework or to build the A/B testing platform in-house. And finally, learn how to cultivate an experimentation-friendly culture within your team.
Leverage the A/B testing methodology to demonstrate the impact of changes on a product to your users, your key business metrics, and the way your team works together. After all, if you aren't measuring the impact of the changes you make, how will you know if you're truly making improvements?
Now in print: the ebook is available at pragprog.com/titles/abtest. For the paperback edition, please support your local independent bookstore.
Do More with What You Know
From paperbacks and ebooks to online courses and beyond, if you want to create technical content, we may be your perfect partner.
Leverage our 20+ years of experience, our global distribution network, our massive fan base, our relationships with industry leaders, our editorial, production, and marketing prowess, and even our reputation for excellence. Sure, you could go it alone, but with some of the highest royalties in all of traditional publishing and your own personal team, why would you bother?
Shoot us an email at proposals@pragprog.com or visit pragprog.com/publish-with-us for more details today.
Let's publish something together!
Be the First
Sign up for this newsletter at https://pragprog.com/newsletter/ and be the first to hear about our newest content, best promotions, and upcoming events.
Want even more? Follow @pragprog on Twitter and The Pragmatic Programmers on LinkedIn for commentary, news, job openings, and even puzzles.
And while you're here, remember to look up Andy Hunt @PragmaticAndy and Dave Thomas @pragdave, too.
Thanks for your continued support,

By Professional Developers, for Professional Developers
PragProg.com
Sent by the Pragmatic Programmers, LLC. • 9650 Strickland Rd Ste 103-255• Raleigh NC 27615