August 22, 2023
Designing Data Governance from the Ground Up: Six Steps to Build a Data-Driven Culture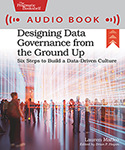 In the last decade, the amount of data people produced grew 3,000 percent. Most organizations lack the strategy to clean, collect, organize, and automate data for production-ready projects. Without effective data governance, most businesses will keep failing to gain value from the mountain of data that's available to them.
There's a plethora of content intended to help DataOps and DevOps teams reach production, but 90 percent of projects trained with big data fail to reach production because they lack governance.
This book shares six steps you can take to build a data governance strategy from scratch. You'll find a data framework, pull together a team of data stewards, build a data governance team, define your roadmap, weave data governance into your development process, and monitor your data in production.
Whether you're a chief data officer or individual contributor, this book will show you how to manage up, get the buy-in you need to build data governance, find the right colleagues to co-create data governance, and keep them engaged for the long haul.
Now available at pragprog.com/titles. You can also use coupon code LMMLOPSBUNDLE for 40% off when you purchase both the ebook and audio book at pragprog.com. For the paperback edition, please support your local independent bookstore.
Do More with What You Know
From paperbacks and ebooks to online courses and beyond, if you want to create technical content, we may be your perfect partner.
Leverage our 20+ years of experience, our global distribution network, our massive fan base, our relationships with industry leaders, our editorial, production, and marketing prowess, and even our reputation for excellence. Sure, you could go it alone, but with some of the highest royalties in all of traditional publishing and your own personal team, why would you bother?
Shoot us an email at proposals@pragprog.com or visit pragprog.com/publish-with-us for more details today.
Let's publish something together!
Upcoming Author Appearances
2023-09-12 Johanna Rothman, https://www.productmanagementtoday.com/frs/24530279/keep-the-competitive-edge-and-reduce-churn/
2023-09-18 Johanna Rothman, https://events.vtools.ieee.org/m/370839
2023-09-22 Craig Walls, New England Software Symposium - Boston, MA
2023-09-22 Craig Walls, Central Ohio Software Symposium - Columbus, OH
2023-09-22 Leemay Nassery, Strange Loop
2023-09-27 Johanna Rothman, Need to Convince Management? How to Build a Business Case
Be the First
Sign up for this newsletter at https://pragprog.com/newsletter/ and be the first to hear about our newest content, best promotions, and upcoming events.
Want even more? Follow @pragprog on Twitter and The Pragmatic Programmers on LinkedIn for commentary, news, job openings, and even puzzles.
Thanks for your continued support.

By Professional Developers, for Professional Developers
PragProg.com
Sent by the Pragmatic Programmers, LLC. • PO Box 271356• Flower Mound TX 75027