September 07, 2023
Competing with Unicorns: How the World's Best Companies Ship Software and Work Differently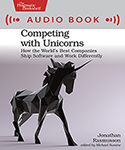 Massively successful tech companies, or unicorns, have discovered how to take the techniques that made them successful as a startup and scale them to the enterprise level. Amazon, Facebook, Google, and Spotify all work like startups, despite having workforces numbering in the tens of thousands. Ex-Spotify engineer and coach, Jonathan Rasmusson, takes you behind the scenes and shows you how to develop software the way the best companies do it.
Learn how to give teams purpose through missions, empower and trust with squads, and align large scale efforts through bets. Create the culture necessary to make it happen.
If you're a tech or product lead and you want to ship product better, this is your playbook on how the world's best do it. If you're an engineer, tester, analyst, or project manager, and you suspect there are better ways you could be working, you are correct. This book will show you how. And if you're a manager, Agile coach, or someone just charged with improving how your company ships software, this book will give you the tools, techniques, and practices of the world's most innovative, delivery-focused companies. Don't just admire the top companies—learn from them.
Now available at pragprog.com/titles. You can also use coupon code JRAGILEBUNDLE for 40% off when you purchase both the ebook and audio book at pragprog.com. For the paperback edition, please support your local independent bookstore.
Do More with What You Know
From paperbacks and ebooks to online courses and beyond, if you want to create technical content, we may be your perfect partner.
Leverage our 20+ years of experience, our global distribution network, our massive fan base, our relationships with industry leaders, our editorial, production, and marketing prowess, and even our reputation for excellence. Sure, you could go it alone, but with some of the highest royalties in all of traditional publishing and your own personal team, why would you bother?
Shoot us an email at proposals@pragprog.com or visit pragprog.com/publish-with-us for more details today.
Let's publish something together!
Upcoming Author Appearances
2023-09-12 Johanna Rothman, Keep the Competitive Edge and Reduce Churn
2023-09-12 Herbert Wolverson, RustConf
2023-09-18 Johanna Rothman, Successful Independent Consulting: Relationships That Focus on Mutual Benefit
2023-09-22 Craig Walls, New England Software Symposium - Boston, MA
2023-09-22 Craig Walls, Central Ohio Software Symposium - Columbus, OH
2023-09-22 Leemay Nassery, Strange Loop
2023-09-26 Herbert Wolverson, GopherCon 2023 San Diego
2023-09-27 Johanna Rothman, Need to Convince Management? How to Build a Business Case
2023-10-04 Ben Cotton, DockerCon, Los Angeles, CA
2023-10-13 Craig Walls, Northern Virginia Software Symposium - Reston, VA
2023-10-20 Craig Walls, Twin Cities Software Symposium - Minneapolis, MN
Be the First
Sign up for this newsletter at https://pragprog.com/newsletter/ and be the first to hear about our newest content, best promotions, and upcoming events.
Want even more? Follow @pragprog on Twitter and The Pragmatic Programmers on LinkedIn for commentary, news, job openings, and even puzzles.
Thanks for your continued support.

By Professional Developers, for Professional Developers
PragProg.com
Sent by the Pragmatic Programmers, LLC. • PO Box 271356• Flower Mound TX 75027