September 27, 2023
C Brain Teasers: Exercise Your Mind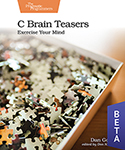 Most C programming books present the information sequentially, teaching you the right way to code and only rarely describing what could go wrong. In this book, the goal is to find out what did go wrong—or what potentially goes right. Explore interesting and unusual programming concepts and approaches with small, to-the-point, programs and exercises. Hone your C programming skills and expand your knowledge.
By working through the brain teasers in this book, you'll fill in gaps in your knowledge and work with advanced concepts such as pointers and recursion. All of the teaser topics were selected to give you food for thought, explaining the technical details behind each puzzle. Look at a code sample and try to guess what output it will give. Code it yourself and see the result. Is it what you expected? Then read the author's lighthearted explanation of exactly why the language does what it does, and how you can take advantage of it. You'll come away with a much better understanding of how the language works, and how to use it for efficient and effective programming.
Now available in beta from pragprog.com/titles.
Do More with What You Know
From paperbacks and ebooks to online courses and beyond, if you want to create technical content, we may be your perfect partner.
Leverage our 20+ years of experience, our global distribution network, our massive fan base, our relationships with industry leaders, our editorial, production, and marketing prowess, and even our reputation for excellence. Sure, you could go it alone, but with some of the highest royalties in all of traditional publishing and your own personal team, why would you bother?
Shoot us an email at proposals@pragprog.com or visit pragprog.com/publish-with-us for more details today.
Let's publish something together!
Upcoming Author Appearances
2023-09-27 Johanna Rothman, Need to Convince Management? How to Build a Business Case
2023-10-03 Johanna Rothman, Non-Fiction Writing Workshop: Free Your Inner Writer (online workshop)
2023-10-03 Andy Atkinson, PGConf NYC 2023
2023-10-04 Ben Cotton, DockerCon, Los Angeles, CA
2023-10-13 Craig Walls, Northern Virginia Software Symposium - Reston, VA
2023-10-18 Johanna Rothman, The PMO Leader
2023-10-20 Craig Walls, Twin Cities Software Symposium - Minneapolis, MN
2023-11-07 James Stanier, CTO Craft Con
Be the First
Sign up for this newsletter at https://pragprog.com/newsletter/ and be the first to hear about our newest content, best promotions, and upcoming events.
Want even more? Follow @pragprog on Twitter and The Pragmatic Programmers on LinkedIn for commentary, news, job openings, and even puzzles.
Thanks for your continued support.

By Professional Developers, for Professional Developers
PragProg.com
Sent by the Pragmatic Programmers, LLC. • PO Box 271356• Flower Mound TX 75027