July 08, 2020

On this day in 1947, reporters broadcast news of a UFO crash-landing in Roswell, New Mexico. Was it swamp gas? A meteor? Experimental aircraft? Time traveller trying to avoid 2020 altogether? It seemed like a simple story at the time, but the mystery lingers over 70 years later.

Go is a simple language, but it's also maybe not as simple as you think. Explore Go's subtle nuances and learn new tricks and tips today with Go Brain Teasers: Exercise Your Mind, now available from pragprog.com/titles/d-gobrain.

Come and get it, and solve a few mysteries of your own today.
Go Brain Teasers: Exercise Your Mind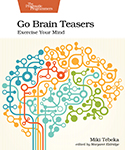 At the beginning of each chapter, the author will show you a short Go program and will ask you to guess the output. The possible answers can be:
Won't compile
Panic
Deadlock
Some output (e.g., [1 2 3])
There's a lot of research showing that people who make mistakes during the learning process learn better than people who don't. If you use this approach at work when fixing bugs, you'll find you enjoy bug hunting more and become a better developer after each bug you fix.
Many of these brain teasers are from quizzes given at conferences and meetups. People highly enjoy the brain teasers, and they tend to liven up the room.
Before moving on to the answer and the explanation, go ahead and guess the output. After guessing the output, run the code and see the output yourself, then proceed to read the solution and the explanation. Miki Tebeka has been teaching programming for many years and finds this course of action to be highly effective.
Now available from pragprog.com/titles/d-gobrain.
This work was written and produced entirely by the author. We are proud to be distributing it.
You Could Be a Published Author
Is there a tech topic you are deeply passionate about and want to share with the rest of us? You could become a published Pragmatic Bookshelf author! Take a look at our pragprog.com/become-an-author page for details, including our 50% royalty (yes, for real!) and world-class development editors.
Don't Get Left Out
Are your friends jealous that you get these spiffy email newsletters and they don't? Clue them in that all they need to do is signup at pragprog.com.
Tell your friends! Tweet this
Follow us on Twitter for the latest news, commentary, and occasional discounts:: @pragprog, Andy Hunt @PragmaticAndy.
Thanks for your continued support,
Andy Hunt
Publisher, Pragmatic Bookshelf
By Professional Developers, for Professional Developers
PragProg.com
Sent by the Pragmatic Programmers, LLC. • 9650 Strickland Rd Ste 103-255• Raleigh NC 27615