January 21, 2021

When Charles Darwin took the HMS Beagle out for its second spin in 1831, he was just a young man with expertise in geology and an interest in seeing the world. But, as he recorded what he saw, he began observing things about the natural world that most people had overlooked for centuries.

Years later, Darwin's observations inspired his theory of evolution by natural selection. And, many, many years later, that theory inspired the creation of evolutionary algorithms as a powerful means of solving certain programming problems.

Just like in Darwin's time, people today often overlook what's right in front of their faces. Don't let history repeat itself. Pick up a copy of Genetic Algorithms in Elixir: Solve Problems Using Evolution from pragprog.com/titles/smgaelixir and learn to combine the elegance of genetic algorithms with Elixir's unique feature set. There's no doubt you'll quickly be inspired, too.
Genetic Algorithms in Elixir: Solve Problems Using Evolution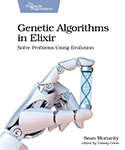 Evolutionary algorithms are a unique and often overlooked subset of machine learning and artificial intelligence. Because of this, most of the available resources are outdated or too academic in nature, and none of them are made with Elixir programmers in mind.
Start from the ground up with genetic algorithms in a language you are familiar with. Discover the power of genetic algorithms through simple solutions to challenging problems. Use Elixir features to write genetic algorithms that are concise and idiomatic. Learn the complete life cycle of solving a problem using genetic algorithms. Understand the different techniques and fine-tuning required to solve a wide array of problems. Plan, test, analyze, and visualize your genetic algorithms with real-world applications.
Open your eyes to a unique and powerful field—without having to learn a new language or framework.
Now in print: The ebook is content complete and available from pragprog.com/titles/smgaelixir. For the paperback edition, please support your local independent bookstore.
You Could Be a Published Author
Is there a tech topic you are deeply passionate about and want to share with the rest of us? You could become a published Pragmatic Bookshelf author! Take a look at our pragprog.com/become-an-author page for details, including our 50% royalty (yes, for real!) and world-class development editors.
Remember, the best way to tell the future is to create it.
Upcoming Author Appearances
2021-02-03 Johanna Rothman, Panelist for Future of Work in Scotland
Don't Get Left Out
Are your friends jealous that you get these spiffy email newsletters and they don't? Clue them in that all they need to do is signup at pragprog.com.
Tell your friends! Tweet this
Follow us on Twitter for the latest news, commentary, and occasional discounts:: @pragprog, Andy Hunt @PragmaticAndy.
Thanks for your continued support.

By Professional Developers, for Professional Developers
PragProg.com
Sent by the Pragmatic Programmers, LLC. • 9650 Strickland Rd Ste 103-255• Raleigh NC 27615