February 04, 2021

Legend has it that when George and Louise Boldt opened up their first Waldorf hotel in New York City in 1894, they also brought to life a staple of event management that persists to this very day: the velvet rope. These simple structures and the bouncers who control them aren't just there to stop people from coming in, they're there to maintain equilibrium—maximum fun on the inside, maximum buzz on the outside. Wouldn't it be great if you had something equally as powerful to control flow and demand in your own programs? The good news is, you do.

Elixir is famous for its ability to help you build high-performance and fault-tolerant applications, but knowing which tool to choose for which job is no simple task. From regulating back-pressure to ingesting data pipelines and more, we'll teach you how to increase your application's performance, without sacrificing scalability or fault tolerance.

Ready to get started? Then come on in!
Concurrent Data Processing in Elixir: Fast, Resilient Applications with OTP, GenStage, Flow, and Broadway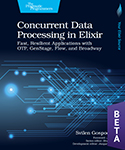 Whether you are building a high-frequency stock trading application or a consumer web app, you need to know how to leverage concurrency to build applications that are fast and efficient. Elixir and the OTP offer a range of powerful tools, and this guide will show you how to choose the best tool for each job, and use it effectively to quickly start building highly concurrent applications.
Learn about Tasks, supervision trees, and the different types of Supervisors available to you. Understand why processes and process linking are the building blocks of concurrency in Elixir. Get comfortable with the OTP and use the GenServer behaviour to maintain process state for long-running jobs. Easily scale the number of running processes using the Registry. Handle large volumes of data and traffic spikes with GenStage, using back-pressure to your advantage. Create your first multi-stage data processing pipeline using producer, consumer, and producer-consumer stages. Process large collections with Flow, using MapReduce and more in parallel. Thanks to Broadway, you will see how easy it is to integrate with popular message broker systems, or even existing GenStage producers.
Start building the high-performance and fault-tolerant applications Elixir is famous for today.
Now available in beta from pragprog.com/titles/sgdpelixir.
You Could Be a Published Author
Is there a tech topic you are deeply passionate about and want to share with the rest of us? You could become a published Pragmatic Bookshelf author! Take a look at our pragprog.com/become-an-author page for details, including our 50% royalty (yes, for real!) and world-class development editors.
Remember, the best way to tell the future is to create it.
Upcoming Author Appearances
Don't Get Left Out
Are your friends jealous that you get these spiffy email newsletters and they don't? Clue them in that all they need to do is signup at pragprog.com.
Tell your friends! Tweet this
Follow us on Twitter for the latest news, commentary, and occasional discounts:: @pragprog, Andy Hunt @PragmaticAndy.
Thanks for your continued support.

By Professional Developers, for Professional Developers
PragProg.com
Sent by the Pragmatic Programmers, LLC. • 9650 Strickland Rd Ste 103-255• Raleigh NC 27615