February 25, 2021
Programming Phoenix LiveView: Interactive Elixir Web Programming Without JavaScript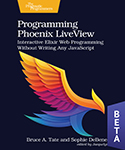 Instead of settling for traditional manuals and tutorials, get insights that can only be learned from experience. Start with the Elixir language techniques that effortlessly marry your client templates and server-side handlers. Design your systems with the right layers in the right places so that your code is easier to understand, change, and support. Explore features like multi-part uploads and learn how to comprehensively test your live views. Roll into advanced techniques to tie your code to other services through the powerful publish-subscribe interface.
LiveView brings the most important programming techniques from the popular Elm and JavaScript React frameworks to Elixir. You'll experience firsthand how to harness that power by working side by side with some of the first LiveView users. You will write your programs to change data on the server, and you'll see how LiveView efficiently detects those changes and reflects them on the web page. Start from scratch, use built-in generators, and craft reusable components. Your single-purpose reducers will transform server data that your renderers can turn into efficient client-side diffs.
Don't settle for knowing how things work. To get the most out of LiveView, you need to know why they work that way. Co-authored by one of the most prolific authors and teachers in all of Elixir, this book is your perfect guide to one of the most important new frameworks of our generation.
Now available in beta from pragprog.com/titles.
You Could Be a Published Author
Is there a tech topic you are deeply passionate about and want to share with the rest of us? You could become a published Pragmatic Bookshelf author! Take a look at our pragprog.com/become-an-author page for details, including our 50% royalty (yes, for real!) and world-class development editors.
Remember, the best way to tell the future is to create it.
Upcoming Author Appearances
2021-03-04 Johanna Rothman, Agile New England
2021-03-10 Frances Buontempo, ACCU Conf 2021
2021-03-10 Sophie DeBenedetto, Code BEAM V Americas
Don't Get Left Out
Are your friends jealous that you get these spiffy email newsletters and they don't? Clue them in that all they need to do is signup at pragprog.com.
Tell your friends! Tweet this
Follow us on Twitter for the latest news, commentary, and occasional discounts: @pragprog, Andy Hunt @PragmaticAndy.
Thanks for your continued support.

By Professional Developers, for Professional Developers
PragProg.com
Sent by the Pragmatic Programmers, LLC. • 9650 Strickland Rd Ste 103-255• Raleigh NC 27615