March 17, 2021
Help Your Boss Help You: Convert Conflict Into Opportunities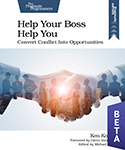 Guide your manager to treat you as a vital member of the team who should be kept as happy and productive as possible.
When your manager insists on a course of action you don't like, most employees feel they have only two options: you can swallow your objections, or you can leave. Neither option gets you what you want, which is for your manager to consider your interests when making decisions. Challenging your boss directly is risky, but if you understand what really matters to your manager, you can build a balanced relationship that works for both sides.
Provide timely "good enough" answers that satisfy the immediate need of the boss to move forward. Use a productive solution to the Iterated Prisoner's Dilemma to structure your interactions with management, going along when necessary and pushing back where appropriate, without threatening the loyalty relationship. Send the two most important messages to your boss: "I got this" and "I got your back," to prove your value to the boss and the organization. Analyze your manager's communication preferences so you can express your arguments in a way most likely to be heard and understood. Avoid key traps, like thinking of the boss as your friend or violating the chain of command unnecessarily.
Now available in beta from pragprog.com/titles/kkmanage.
The Pragmatic Hero's Journey Podcast: Chris Pine
Chris Pine started his Hero's Journey in 2002 when he thought about using Ruby to teach people how to program. There wasn't much Ruby documentation for beginners at the time, so he decided to stop thinking about teaching and start writing a tutorial aimed at beginners.
The task of writing a great tutorial for non-programmers was a bit more challenging than Chris first anticipated, but he kept at it—adding more and more polish with each revision. Because Chris made it so easy for people to contact him, he was able to rework the tutorial based on reader feedback.
Just as Chris was ready to wrap up the tutorial writing, he was contacted by a handful of publishers, including the Pragmatic Bookshelf. He's been with us ever since and is now working on the 3rd edition of Learn to Program, which is currently in beta.
Listen to the rest of Chris's story on this episode of the Pragmatic Hero's Journey podcast.
You can stream the episode here: https://pragprog.libsyn.com/ or subscribe to the RSS feed at https://pragprog.libsyn.com/rss.
You Could Be a Published Author
Is there a tech topic you are deeply passionate about and want to share with the rest of us? You could become a published Pragmatic Bookshelf author! Take a look at our pragprog.com/become-an-author page for details, including our 50% royalty (yes, for real!) and world-class development editors.
Remember, the best way to tell the future is to create it.
Upcoming Author Appearances
Don't Get Left Out
Are your friends jealous that you get these spiffy email newsletters and they don't? Clue them in that all they need to do is signup at pragprog.com.
Tell your friends! Tweet this
Follow us on Twitter for the latest news, commentary, and occasional discounts: @pragprog, Andy Hunt @PragmaticAndy.
By Professional Developers, for Professional Developers
PragProg.com
Sent by the Pragmatic Programmers, LLC. • 9650 Strickland Rd Ste 103-255• Raleigh NC 27615