April 29, 2021
Resourceful Code Reuse: Write → Compile → Link → Run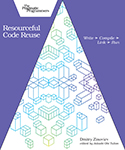 Avoid the drawbacks and harness the benefits associated with seven code reuse models. Create static and dynamic libraries in C and Python, deploy shared functions remotely, and build software that makes intelligent use of remote procedure calls. In no time at all, you'll develop the confidence to reuse code at any stage of real-world development.
This one-stop solution covers the complete build cycle: editing, compiling, linking, and running a ready program. Apply Linux/macOS power software development tools, such as ld, ldd, ranlib, and nm, to construct and explore state-of-the-art function libraries in C that could be linked with application-specific code either permanently or for the duration of execution. Learn why Python has modules for reuse and how they differ from C object files and libraries. Understand the risks and other negative implications of sharing and reuse. As a bonus, distill the dependencies between your project's components and automate and optimize your build process with the "make" utility.
Whether you are an amateur coder or an experienced developer, become a more productive and resourceful programmer by reusing previously written code.
The completed ebook is now available on our site and will be available soon on Amazon.com, O'Reilly Learning Platform, and other online retailers. Use Coupon Code "DZREUSECOMPLETE" for 40% off the completed ebook at pragprog.com/titles/dzreuse.
You Could Be a Published Author
Is there a tech topic you are deeply passionate about and want to share with the rest of us? You could become a published Pragmatic Bookshelf author! Take a look at our pragprog.com/become-an-author page for details, including our 50% royalty (yes, for real!) and world-class development editors.
Remember, the best way to tell the future is to create it.
Who Are We?
The Pragmatic Bookshelf publishing imprint is wholly owned by The Pragmatic Programmers, LLC.
Andy Hunt and Dave Thomas founded the company with a simple goal: to improve the lives of professional developers. We create timely, practical books, audio books, and videos on classic and cutting-edge topics to help you learn and practice your craft.
We are not a giant, faceless, greed-soaked corporation. We're a small group of experienced professionals committed to helping make software development easier.
Thank you for your continued support!
Don't Get Left Out
Are your friends jealous that you get these spiffy email newsletters and they don't? Clue them in that all they need to do is signup at pragprog.com.
Tell your friends! Tweet this
Follow us on Twitter for the latest news, commentary, and occasional discounts: @pragprog, Andy Hunt @PragmaticAndy.
Thanks for your continued support.

By Professional Developers, for Professional Developers
PragProg.com
Sent by the Pragmatic Programmers, LLC. • 9650 Strickland Rd Ste 103-255• Raleigh NC 27615