May 13, 2021
Modern CSS with Tailwind: Flexible Styling Without the Fuss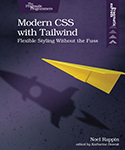 With CSS, you can do amazing things to the basic text and images on your website, and with just a little bit of client-side code to add and remove CSS classes, you can do exponentially more. CSS can also be hard to debug, complicated to write, and hard to maintain—but it doesn't have to be. With Tailwind, you can minimize the amount of CSS you need to write, making it easier to control and debug, and yet still enjoy full flexibility and consistency across your site. Use Tailwind to build complex page layouts, add responsive design that adjusts to different screen widths, and dramatically reduce the amount of CSS you need.
The Tailwind setup is extremely explicit, and makes it possible to understand the display just by looking at the HTML markup. Start by designing the typographic details of the individual elements, then placing and manipulating those elements in "the box"—the rectangle of space each element takes up on screen—using a flexbox or grid design. Move those elements around the page with helpful small animations and transitions. With Tailwind, it's easy to prototype, iterate, and customize your display. Use prefixes to specify behavior. Change defaults, add new behavior, or integrate with legacy CSS.
Use Tailwind to make extraordinary web designs without extraordinary effort.
Now in print: Use Coupon Code "TAILWINDCOMPLETE" for 40% off the ebook at pragprog.com/titles. For the paperback edition, please support your local independent bookstore.
You Could Be a Published Author
Is there a tech topic you are deeply passionate about and want to share with the rest of us? You could become a published Pragmatic Bookshelf author! Take a look at our pragprog.com/become-an-author page for details, including our 50% royalty (yes, for real!) and world-class development editors.
Remember, the best way to tell the future is to create it.
Upcoming Author Appearances
2021-05-13 Johanna Rothman, Agile Reloaded UK
2021-06-04 Johanna Rothman, Agile Austin
2021-06-13 Johanna Rothman, NYC LeSS
Don't Get Left Out
Are your friends jealous that you get these spiffy email newsletters and they don't? Clue them in that all they need to do is signup at pragprog.com.
Tell your friends! Tweet this
Follow us on Twitter for the latest news, commentary, and occasional discounts: @pragprog, Andy Hunt @PragmaticAndy.
Thanks for your continued support.

By Professional Developers, for Professional Developers
PragProg.com
Sent by the Pragmatic Programmers, LLC. • 9650 Strickland Rd Ste 103-255• Raleigh NC 27615