June 09, 2021
Portable Python Projects: Run Your Home on a Raspberry Pi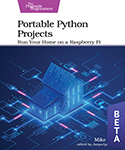 Get to know the latest Raspberry Pi hardware, and create awesome automation solutions for home or work that don't require an electronics degree, cumbersome add-ons, or expensive third-party subscription services. Create easy to run Python scripts on your own that make your Pi do things that would have required a team of automation experts to build only a few years ago.
Connect to and control popular home automation lighting systems from a Raspberry Pi. Trigger autonomous actions based on movement, temperature, and timer events. Power on your own computer and appliances using your voice. Remotely control infrared-enabled consumer electronics, create chatbots to retrieve personalized items of interest, and implement a temperature-monitoring room fan. These are just some of the projects that the book will show you how to make. Most projects can be completed and operational in under an hour, and do not require any messy schematics or a spaghetti bowl of wires and breadboard-attached circuits to operate.
Control your home or office exactly the way you want instead of relying on an expensive mysterious box of third-party technology to do it for you.
Now available in beta from pragprog.com/titles.
You Could Be a Published Author
Is there a tech topic you are deeply passionate about and want to share with the rest of us? You could become a published Pragmatic Bookshelf author! Take a look at our pragprog.com/become-an-author page for details, including our 50% royalty (yes, for real!) and world-class development editors.
Remember, the best way to tell the future is to create it.
Upcoming Author Appearances
2021-06-13 Johanna Rothman, NYC LeSS
2021-06-17 Johanna Rothman, Business Agility Gauteng
Don't Get Left Out
Are your friends jealous that you get these spiffy email newsletters and they don't? Clue them in that all they need to do is sign up at pragprog.com.
Tell your friends! Tweet this
Follow us on Twitter for the latest news, commentary, and occasional discounts: @pragprog, Andy Hunt @PragmaticAndy.
Thanks for your continued support.

By Professional Developers, for Professional Developers
PragProg.com
Sent by the Pragmatic Programmers, LLC. • 9650 Strickland Rd Ste 103-255• Raleigh NC 27615