July 08, 2021
Hands-on Rust: Effective Learning through 2D Game Development and Play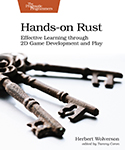 Rust is an exciting programming language combining the power of C with memory safety, fearless concurrency, and productivity boosters. With Rust, you have a shiny new playground where your game ideas can flourish.
Each chapter in this book presents hands-on, practical projects that take you on a journey from "Hello, World" to building a full dungeon crawler game. Start by setting up Rust and getting comfortable with your development environment. Learn the language basics with practical examples as you make your own version of Flappy Bird. Discover what it takes to randomly generate dungeons and populate them with monsters as you build a complete dungeon crawl game. Run game systems concurrently for high-performance and fast game-play, while retaining the ability to debug your program. Unleash your creativity with magical items, tougher monsters, and intricate dungeon design. Add layered graphics and polish your game with style.
Now in print: Use Coupon Code "HWRUSTCOMPLETE" for 40% off the ebook at pragprog.com/titles/hwrust. For the paperback edition, please support your local independent bookstore.
You Could Be a Published Author
Is there a tech topic you are deeply passionate about and want to share with the rest of us? You could become a published Pragmatic Bookshelf author! Take a look at our pragprog.com/become-an-author page for details, including our 50% royalty (yes, for real!) and world-class development editors.
Remember, the best way to tell the future is to create it.
Upcoming Author Appearances
2021-07-12 Johanna Rothman, Non-Fiction Writing Workshop to Enhance Your Business (online workshop)
2021-07-27 Michael Fazio, THAT Conference, Wisconsin Dells, WI
Don't Get Left Out
Are your friends jealous that you get these spiffy email newsletters and they don't? Clue them in that all they need to do is sign up at pragprog.com.
Tell your friends! Tweet this
Follow us on Twitter for the latest news, commentary, and occasional discounts: @pragprog, Andy Hunt @PragmaticAndy.
Thanks for your continued support.

By Professional Developers, for Professional Developers
PragProg.com
Sent by the Pragmatic Programmers, LLC. • 9650 Strickland Rd Ste 103-255• Raleigh NC 27615