September 16, 2021
Pandas Brain Teasers: Exercise Your Mind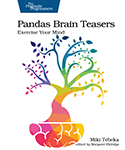 Working with data is central to nearly everything we do, from disease contact tracing and analyzing health records to smart meters that track utility consumption behavior. With the power of Python's pandas library, you can process and analyze this data in a highly efficient and simple-to-understand way. And with 25 brain teasers designed to turn this technology's quirks into a teaching opportunity, you'll be honing your data science skills while having fun at the same time.
Following a simple format, you'll challenge yourself and your understanding of pandas. Read a short Python program that uses pandas, try to guess the output, run the code yourself, and then go to the next page for an explanation of the solution. From common pitfalls and hidden gotchas to unexpected twists and turns, you'll deepen your understanding of pandas, learn to write more efficient code, and reduce the number of bugs in the software you develop. You may even impress your colleagues and your employers, both present and future.
Learn the tricks of the trade with Python's pandas in one of the most fun and creative ways around.
Now in print: Use Coupon Code "PANDASCOMPLETE" for 40% off the ebook at pragprog.com/titles/d-pandas. For the paperback edition, please support your local independent bookstore.
Ready for another challenge? See if you can solve Quite Some Time, a free bonus pandas brain teaser in our Medium publication at https://medium.com/pragmatic-programmers/quite-some-time-f428984efc4a.
You Could Be a Published Author
Is there a tech topic you are deeply passionate about and want to share with the rest of us? You could become a published Pragmatic Bookshelf author! Take a look at our pragprog.com/become-an-author page for details, including our 50% royalty (yes, for real!) and world-class development editors.
Remember, the best way to tell the future is to create it.
Upcoming Author Appearances
Don't Get Left Out
Are your friends jealous that you get these spiffy email newsletters and they don't? Clue them in that all they need to do is sign up at pragprog.com.
Tell your friends! Tweet this
Follow us on Twitter for the latest news, commentary, and occasional discounts: @pragprog, Andy Hunt @PragmaticAndy.
Thanks for your continued support,

By Professional Developers, for Professional Developers
PragProg.com
Sent by the Pragmatic Programmers, LLC. • 9650 Strickland Rd Ste 103-255• Raleigh NC 27615