November 01, 2023
Automate Your Home Using Go: Build a Personal Data Center with Raspberry Pi, Docker, Prometheus, and Grafana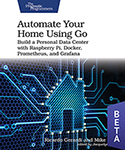 With just a Raspberry Pi and the Go programming language, build your own personal data center that coordinates and manages your home automation, leveraging the same high-powered software used by large enterprises. The projects in this book are easy to assemble, no soldering or electrical engineering expertise required.
Build a temperature monitor that can send alerts any time defined thresholds are exceeded and report the temperature readings on a time-based series chart. Change the color of lights to visually indicate the current outdoor weather status. Create a networked motion detector that triggers an alert any time motion is detected, such as a door opening or closing, a pet wandering around, or deliveries or visitors arriving on your front porch. Even have these triggers initiate a more complex Go-based automation sequence. Integrate a small, high-resolution camera into a bird feeder that takes excellent, up-close photos whenever a bird perches at the feeder, and broadcasts them to your Discord server where your family and friends can see these wildlife captures in real time.
Control your home with hardware you configure, and manage it with Go code that you create and modify any time you want to enhance your home automation capabilities.
Now available in beta from pragprog.com/titles/gohome.
Do More with What You Know
From paperbacks and ebooks to online courses and beyond, if you want to create technical content, we may be your perfect partner.
Leverage our 20+ years of experience, our global distribution network, our massive fan base, our relationships with industry leaders, our editorial, production, and marketing prowess, and even our reputation for excellence. Sure, you could go it alone, but with some of the highest royalties in all of traditional publishing and your own personal team, why would you bother?
Shoot us an email at proposals@pragprog.com or visit pragprog.com/publish-with-us for more details today.
Let's publish something together!
Upcoming Author Appearances
2023-11-07 James Stanier, CTO Craft Con
2023-11-14 Frances Buontempo, MeetingCpp/Berlin
Be the First
Sign up for this newsletter at https://pragprog.com/newsletter/ and be the first to hear about our newest content, best promotions, and upcoming events.
Want even more? Follow @pragprog on Twitter and The Pragmatic Programmers on LinkedIn for commentary, news, job openings, and even puzzles.
And, if you want, you can see what Dave Thomas (@pragdave) is up to.
Thanks for your continued support,

By Professional Developers, for Professional Developers
PragProg.com
Sent by the Pragmatic Programmers, LLC. • 9650 Strickland Rd Ste 103-255• Raleigh NC 27615